Using CGI for Furniture Rendering
[George Clooney from E.R. voice]: We need 500 cc's of adrenaline for this blog, stat!
[Wimpy doubter doctor voice:] We can't give a blog that much adrenaline, it will kill it!
[GCfERV:] It's never been done before, but this thing needs it, bad.
That's pretty much how the conversation went inside my head the other day as I considered the status of things here.  So I'm going to start posting a lot more often and in a few different veins.  Since the annual NeoCon furniture extravaganza just got sewn up, I figured a case study would be a perfect start.
My general pitch for using 3d rendering as a furniture rendering imaging solution for product manufacturers and designers is that it allows you to create a completely customized virtual set that you can then place your consumer goods, electronics, outdoor equipment, furniture or whatever other item it is that you want to show off to the world outside of a designer's brain (which I'm repeatedly assured that they have.  Zing.  Just Kidding.)
I've been involved with creating CGI images and animations for furniture designers for years now and was very happy to have a chance to work with Davis Furniture this Spring to help them update their product book with their latest furniture designs and creating some new renderings of existing designs.
What the Client Gets
Furniture rendering was a perfect fit for them: they didn't have the time to scout the kind of architectural locations they had in mind, ship furniture, assemble it, hire a photographer to shoot and retouch the images and then of course reverse the whole process to clean everything up.  And because Davis focuses on high-design contract furniture, the architecture needed to fit that personality too – not an easy thing to sort out when you want to show a diverse collection of workplace environments.
How Furniture Rendering Works
The workflow with this CGI project makes for a good example of how these things usually go.
The first priority is always to make sure our clients' furniture looks exactly the way it should.  For contract furniture makers like Davis, this usually means importing the same CAD data they use for manufacturing their products.  Soft and squishy items like cushions usually need a little massaging to get the wrinkles and stitching just right, and we'll send a few rounds of image samples back and forth until we get everything perfect.
Also coming in from the client, we had a number of photo references that described how the digital sets should feel for the furniture that was going to live in them.  Each had some specific things they wanted to keep and some things they wanted to lose.
Our next step was to gather a few photo references of our own to fill in some of the gaps in the interior design.  Then we roughed out the 3d geometry of the interiors and created a set of concept renderings to get the discussion started.
Here's a look at one of the concept images we sent: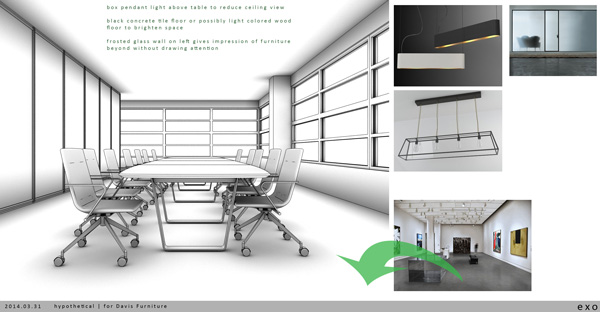 The concepts are where the bulk of the design and creative consideration gets worked out.  Once that is agreed on, it's time to light up the scene and start the conversation that settles out all the details.
How glossy should the floor be?  How much contrast should the lighting generate?  What about that expansive view out the windows?  What would it look like with carpet instead of hard floors?  These are all questions that get addressed in the production process.
For that part of the conversation I like to use an online review tool called ProofHQ.  It's very cool and allows both us at Hypothetical and our clients to mark up their renderings by drawing, adding lines and arrows and boxes and annotations.
Here's a look at the final image: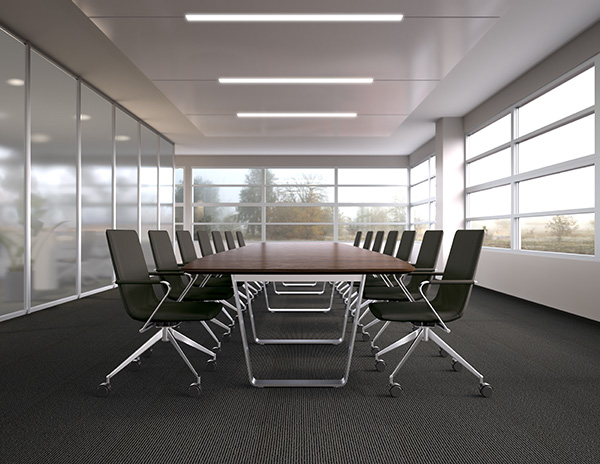 As you can see there are a number of things that got changed, but it's still very recognizable as an evolution of the first furniture rendering concept image.