Virtual reality is a primary platform for Hypothetical.
We've been experimenting with realtime and prerecorded VR since the days of the beta hardware Oculus Rift, and we've learned a lot about how to create in virtual reality.
Now our first VR demo is ready!  Take a tour through the Hell Creek Formation as it was in the Cretacous Period.  And don't worry about the T. rex – she's a lot friendlier than she looks.
Click on the image below or go to vr.thinkhypothetical.com/cretaceous.html
If you have a Google Cardboard headset, you can see it in stereoscopic 3d.  If you don't, drop us a note and we'll hook you up.  In the meantime, you can still try it out on any desktop, laptop or mobile device by dragging your finger or mouse across the screen to pan the view.
If you do have a Google Cardboard or similar headset, you can click on the glasses icon in the lower right corner and then click through the splash screen to switch to stereo mode.  Insert your phone into your viewer and take a spin.  Hover over the purple pins and you will move to another area of the tour.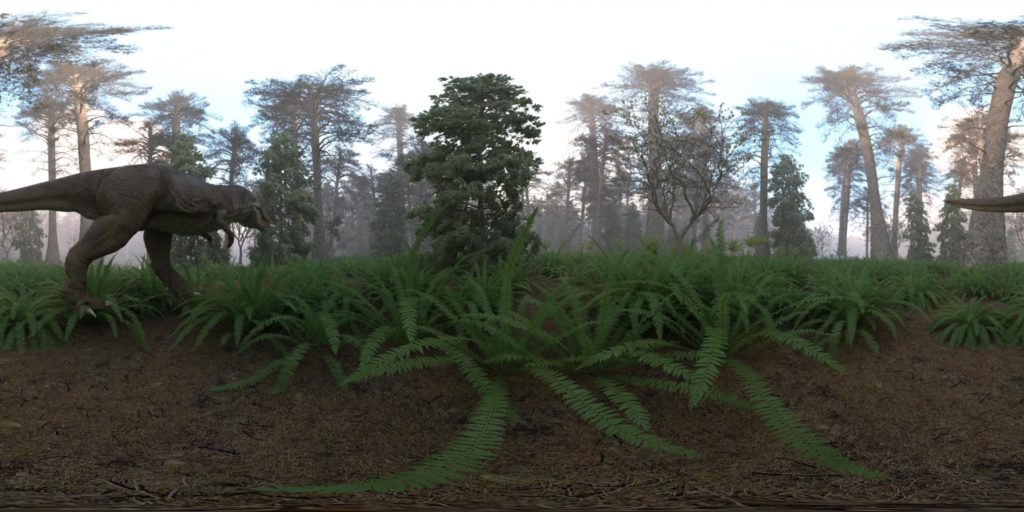 Our virtual reality tour through the Cretaceous Period is just a taste of what we've already created and have underway.  We'll be adding animation, more infographics, more viewpoints and more details, so check back often to see this ancient world develop in front of you.
Hypothetical is immersing people in virtual worlds from architectural tours, product showrooms and educational experiences.  We have a lot more on the way.  Get in touch if you'd like to find out more or to schedule a demo of our desktop VR production.